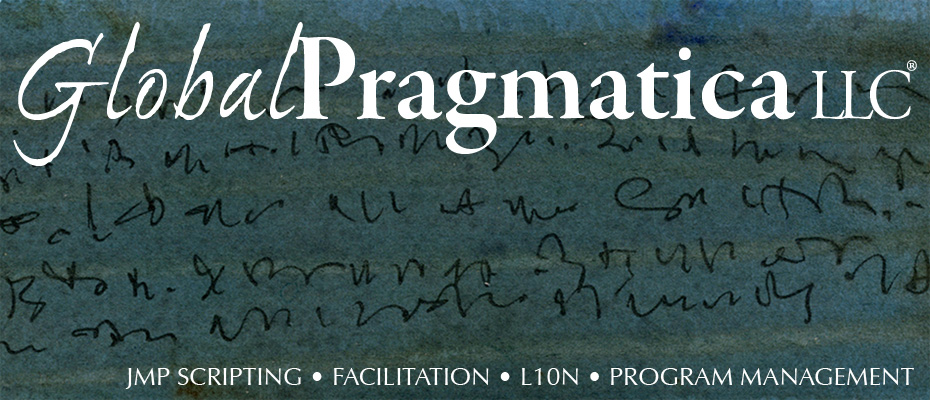 Erin Vang, PMP, is Owner and Principal Pragmatist with Global Pragmatica LLC®. She has over thirty years of experience in statistical software documentation, quality assurance, project management, and localization, most recently as Senior Manager of Technical Communications for Dolby Laboratories, International Program Manager for the JMP Research and Development at SAS. Previously she held management roles in Abacus Concepts and SYSTAT.
Vang holds degrees in music performance and math from St. Olaf College and Northwestern University, is a Scrum Alliance® Certified Scrum Product Owner®, PMI-certified Project Management Professional®, and has extensive training in facilitative leadership and conflict resolution. She wrote a regular column for Multilingual magazine and led ENLASO's annual Thought Leader Forums.
Vang wrote the first JMP Scripting Guide (for JMP 4) and is a recognized expert in JMP scripting, having led numerous large-scale JMP scripting projects and written a variety of minor and major JSL-based custom tools for Fortune 500 clients.
Vang is principal horn of the Helena Symphony Orchestra in Montana and also freelances in professional orchestras throughout the San Francisco Bay Area. She enjoys writing, cooking, and dabbling in trumpet, flügelhorn, tuba, piano, and acoustic fingerstyle guitar when she is not canoeing, sea-kayaking, cross-country and downhill-skiing, hiking, and camping her way across Montana. She collaborated with Mira Z. Amiras in "kaddish in two-part harmony." For much more on her activities outside Global Pragmatica LLC®, see erinvang.com.
View or download Vang's curriculum vitae.
Artwork
Photo of Vang: Anna Ligas.