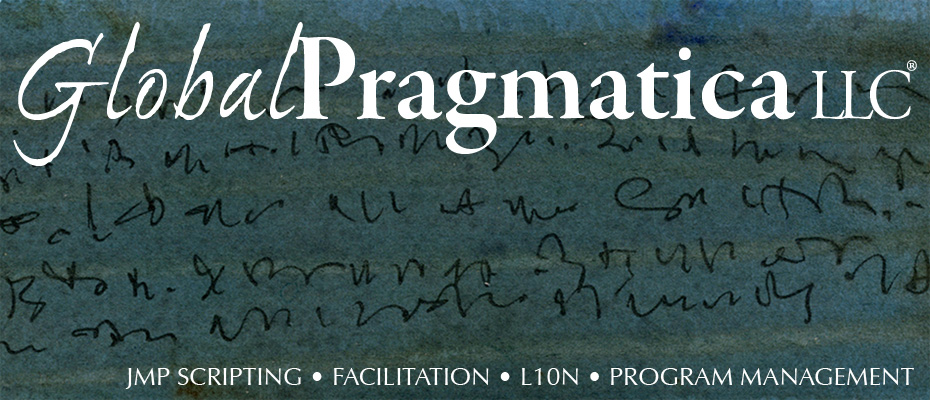 Revised 28 Nov 2018 [download id="2″]
1 Preamble
1.1 This preamble is meant to capture the spirit of the License. If there is any conflict between this preamble and the terms of the License, the License controls.
1.2 Global Pragmatica LLC (R) may provide You with a Script that is free, or that is available at a price that is dependent on two factors; (1) whether You purchase a Single User or Multi-User license and (2) whether the Script is provided to You in an encrypted or unencrypted basis. Free Scripts (excluding promotional/not for resale Scripts) may be redistributed without changes under the terms of the License. If You buy a license for a certain number of users/computers, but then You have more users/licenses, You need to buy a license for the additional unanticipated users/licences, or the License terminates after a grace period.
1.3 Unencrypted Scripts may be modified for Your company's internal use only and may not be shared outside Your company. Any modifications submitted to us will become subject to the License.
1.4 Encrypted scripts may not be decrypted, or otherwise reverse-engineered or modified, and can only be used as is.
1.5 We encourage You to send us bug reports, any modifications You have made to the Script, questions, and ideas about how to make our Scripts meet Your needs more closely. Any product idea submitted to Global Pragmatica LLC, either by word of mouth, email, telephone, or other means immediately becomes the property of Global Pragmatica LLC. This means that if we develop Your idea or an idea similar to Yours, You will not be compensated, and it also means that we can use the idea for any purpose, including giving it away (unless otherwise explicitly agreed in writing).
2 ACCEPTANCE OF TERMS UPON USE OF SCRIPT
2.1 PLEASE READ THIS SOFTWARE LICENSE AGREEMENT ("LICENSE") CAREFULLY BEFORE USING THE SCRIPT (DEFINED BELOW). BY USING THE SCRIPT, YOU ARE AGREEING TO BE BOUND BY THE TERMS OF THIS LICENSE. IF YOU DO NOT AGREE TO THE TERMS OF THIS LICENSE, DO NOT USE THE SCRIPT.YOUR USE OF THE SCRIPT IS AT YOUR OWN RISK. GLOBAL PRAGMATICA LLC MAKES NO REPRESENTATION OR WARRANTY, EXPRESS OR IMPLIED, INCLUDING, BUT NOT LIMITED TO, WARRANTIES OF MERCHANTABILITY, FITNESS FOR A PARTICULAR PURPOSE, NONINFRINGEMENT AND TITLE, WITH RESPECT TO THE SCRIPT.
3 Definitions
3.1 "Contributor" means any person or entity that creates or contributes to the creation of Modifications.
3.2 "Covered Code" means the Original Code, Modifications, the combination of Original Code and any Modifications, and/or any respective portions thereof.
3.3 "Externally Deploy" means: (a) to sublicense, distribute, or otherwise make Covered Code available, directly or indirectly, to anyone other than You; and/or (b) to use Covered Code, alone or as part of a Larger Work, in any way to provide a service, including but not limited to delivery of content, through electronic communication with a client other than You.
3.4 "Larger Work" means a work which combines Covered Code or portions thereof with code not governed by the terms of this License.
3.5 "License" means this Software License Agreement and Your Invoice.
3.6 "Modifications" mean any addition to, deletion from, and/or change to, the substance and/or structure of the Original Code, any previous Modifications, the combination of Original Code and any previous Modifications, and/or any respective portions thereof. When code is released as a series of files, a Modification is: (a) any addition to or deletion from the contents of a file containing Covered Code; and/or (b) any new file or other representation of computer program statements that contains any part of Covered Code.
3.7 "Original Code" means the Source Code of a program or other work as originally made available by Global Pragmatica LLC under this License, including the Source Code of any updates or upgrades to such programs or works made available by Global Pragmatica LLC under this License, and that has been expressly identified by Global Pragmatica LLC as such in the header file(s) of such work.
3.8 "Source Code" means the human readable form of a Script that is suitable for making modifications to it, including all modules it contains or includes.
3.9″You" or "Your" means an individual or a legal entity exercising rights under this License. For legal entities, "You" or "Your" includes any entity which controls, is controlled by, or is under common control with, You, where "control" means (a) the power, direct or indirect, to cause the direction or management of such entity, whether by contract or otherwise, or (b) ownership of fifty percent (50%) or more of the outstanding shares or beneficial ownership of such entity.
4 General; Grant of License
4.1 Subject to the terms and conditions of this License, You are granted a limited, non-exclusive license to use the Script, tools, utilities, sample or example code, documentation, interfaces, content, data, and other materials accompanying this License, whether on disk, print or electronic documentation, in read only memory, encrypted or any other media or in any other form, (collectively, the "Script"). Global Pragmatica LLC and/or its licensors retain ownership of the Script itself and reserve all rights not expressly granted to You. The terms of this License will govern any software upgrades provided by Global Pragmatica LLC that replace and/or supplement the original Script, unless such upgrade is accompanied by a separate license in which case the terms of that license will govern.
5 Permitted License Uses and Restrictions
5.1 Single User and Multi User License
5.1.1Your invoice, contract, or other purchase documentation (Your "Invoice") specifies the name of a user, or a number of users or computers who are entitled to use the Script according to the terms hereof and details exceptions (if any) to the terms described herein. Your Invoice is made a part of this License. If You have paid for a Single User License, You may either (a) designate one individual to use the Script, regardless of the number of computers which that individual uses, or (b) designate one computer, regardless of the number of individuals that may access that computer. If You have paid for a Mulitple User License, You have either (a) designate the number of individuals who may use the license, or (b) designate the number of computers that may run the Script. If You have exceeded the designated number of computers or users as specified in Your Invoice, You agree that within 30 days, You shall either (i) pay an additional fee as specified in the applicable fee schedule set forth in the purchase documentation, or (ii) reduce the number of computers or users using the Script. You agree to periodically audit Your use of the Scripts to confirm compliance with this section. You agree, but no more than quarterly, to certify upon request by Global Pragmatica, LLC that You have audited Your use of the Script and verified compliance with the agreement and with this section in particular.
5.2 Transfer
5.2.1 You may not rent, lease, lend, sell, redistribute, or sublicense the Script, except as contemplated under the section entitled "Redistribution of Free Scripts." You may, however, make a one-time permanent transfer of all of Your license rights to the Script (in its original form as provided by Global Pragmatica LLC) to another party, provided that: (a) the transfer must include all of the Script, including all its component parts, original media, printed materials and this License; (b) You do not retain any copies of the Script, full or partial, including copies stored on a computer or other storage device; and (c) the party receiving the Script reads and agrees to accept the terms and conditions of this License. All components of the Script are provided as part of a bundle and may not be separated from the bundle and distributed as standalone applications.
5.3 NFR (Not for Resale) and Evaluation Copies
5.3.1 Notwithstanding other sections of this License, any Script labeled or otherwise provided to You on a promotional basis may only be used for demonstration, testing and evaluation purposes and may not be redistributed, sold, or otherwise transferred.
5.4 Redistribution of Free Scripts Permitted
5.4.1Only Scripts for which no fee is charged by Global Pragmatica LLC and which are not labeled as an evaluation copy or NFR or Not For Resale ("Free Scripts") may be redistributed. Redistribution and use of Free Scripts, in encrypted or unencrypted forms, with or without modification, are permitted provided that the following conditions are met: (1) You may copy and distribute verbatim copies of the Script as You receive it, in any medium, provided that You keep intact the copyright notice, license notice, and disclaimer(s) of warranty, or web links to same, as originally supplied by Global Pragmatica LLC, and (2) Neither the name of Global Pragmatica LLC nor the names of any contributors to the Script who are explicitly credited in the Scripts themselves ("Credited Contributors") may be used to endorse or promote products derived from this Script without specific prior written permission.
5.5 No Reverse Engineering or Modifcation of Encrypted Scripts
5.5.1 You may not and You agree not to, or to enable others to, copy (except as expressly permitted by this License), decompile, reverse engineer, disassemble, attempt to derive the source code of, decrypt, modify, or create derivative works of the Script or any part thereof.
5.6 Unmodified Code
5.6.1 You may use, reproduce, display, perform, and internally distribute within Your organization to the number of Users for which You have paid Global Pragmatica LLC, verbatim, unmodified copies of the Original Code, for commercial or non-commercial purposes, provided that in each instance: (a) You must retain and reproduce in all copies of Original Code the copyright and other proprietary notices and disclaimers of Global Pragmatica LLC and any other entity that is credited as they appear in the Original Code, and keep intact all notices in the Original Code that refer to this License; and (b) You must include a copy of this License with every copy of Source Code of Covered Code and documentation You distribute, and You may not offer or impose any terms on such Source Code that alter or restrict this License or the recipients' rights or oblligations hereunder.
5.7 Modified Code
5.7.1 You may modify Covered Code and use, reproduce, display, perform, internally distribute within Your organization, Your Modifications and Covered Code, for commercial or non-commercial purposes, provided that in each instance You also meet all of these conditions: (a) You must satisfy all the conditions of Section entitled Unmodified Code with respect to the Source Code of the Covered Code; (b) You must duplicate, to the extent it does not already exist, the notice in Exhibit A in each file of the Source Code of all Your Modifications, and cause the modified files to carry prominent notices stating that You changed the files and the date of any change; (c) You must not Externally Deploy Covered Code; and (d) You may add Your own copyright statement to Your Modifications or for any such Derivative Works as a whole, provided Your use, reproduction, and distribution of the Work otherwise complies with this License.
5.8 Submission of Modifications.
5.8.1 In consideration of, and as a condition to, the license granted to You under this License, You hereby grant to Global Pragmatica LLC a non-exclusive, royalty-free, perpetual, worldwide, irrevocable license, under Your intellectual property rights owned or controlled by You, to use, reproduce, display, perform, modify, sublicense, distribute and Externally Deploy Your Modifications, unless You explicitly provide otherwise in writing, any Modification intentionally submitted by You to Global Pragmatica LLC.
6 No Warranty or Support
6.1 GLOBAL PRAGMATICA LLC IS PROVIDING YOU WITH THE RUNNABLE CUSTOM SCRIPT(S) OR SOURCE CODE INCLUDED WITH THIS AGREEMENT ("SCRIPT") ON AN "AS IS" BASIS, AND GLOBAL PRAGMATICA LLC AND ITS LICENSORS, INCLUDING CONTRIBUTORS, DISCLAIM ANY EXPRESS OR IMPLIED WARRANTIES, INCLUDING, BUT NOT LIMITED TO, THE IMPLIED WARRANTIES OF MERCHANTABILITY, OF SATISFACTORY QUALITY, AND FITNESS FOR A PARTICULAR PURPOSE, OF ACCURACY, OF QUIET ENJOYMENT, AND NON-INFRINGEMENT OF THIRD PARTY RIGHTS. IN NO EVENT SHALL GLOBAL PRAGMATICA LLC AND ITS LICENSORS, INCLUDING CONTRIBUTORS BE LIABLE FOR ANY DIRECT, INDIRECT, INCIDENTAL, SPECIAL, EXEMPLARY, OR CONSEQUENTIAL DAMAGES (INCLUDING, BUT NOT LIMITED TO, PROCUREMENT OF SUBSTITUTE GOODS OR SERVICES; LOSS OF USE, DATA, OR PROFITS; OR BUSINESS INTERRUPTION) HOWEVER CAUSED AND ON ANY THEORY OF LIABILITY, WHETHER IN CONTRACT, STRICT LIABILITY, OR TORT (INCLUDING NEGLIGENCE OR OTHERWISE) ARISING IN ANY WAY OUT OF THE USE OF THIS SCRIPT, EVEN IF ADVISED OF THE POSSIBILITY OF SUCH DAMAGE.
6.2 The Script is intended to be used solely as part of a product ("Software") You currently have licensed from another entity (for example SAS Institute Inc.) ("Software Provider" and "Software Provider License" respectively). You recognize that it is Your responsibility to obtain the Software Provider License and to abide by its terms and conditions. The Script is designed to to add functionality to the Software. Accordingly, Global Pragmatica LLC makes no representation or warranty that the Script will operate error-free. Global Pragmatica LLC is under no obligation to maintain or support the Script.
7 Limitation of Liability
7.1 NEITHER GLOBAL PRAGMATICA LLC NOR ITS LICENSORS SHALL BE LIABLE TO YOU OR ANY THIRD PARTY FOR ANY GENERAL, SPECIAL, DIRECT, INDIRECT, CONSEQUENTIAL, INCIDENTAL OR OTHER DAMAGES WHATSOEVER (INCLUDING DAMAGES FOR LOSS OF BUSINESS PROFITS, BUSINESS INTERRUPTION, LOSS OF BUSINESS INFORMATION AND THE LIKE) ARISING OUT OF OR RELATED TO YOUR USE OR INABILITY TO USE THE SCRIPT, WHETHER UNDER A THEORY OF CONTRACT, WARRANTY, TORT (INCLUDING NEGLIGENCE), PRODUCTS LIABILITY OR OTHERWISE, EVEN IF GLOBAL PRAGMATICA LLC OR SUCH CONTRIBUTOR HAS BEEN ADVISED OF THE POSSIBILITY OF SUCH DAMAGES AND NOTWITHSTANDING THE FAILURE OF ESSENTIAL PURPOSE OF ANY REMEDY. SOME JURISDICTIONS DO NOT ALLOW THE LIMITATION OF LIABILITY OF INCIDENTAL OR CONSEQUENTIAL DAMAGES, SO THIS LIMITATION MAY NOT APPLY TO YOU. In no event shall Global Pragmatica LLC's total liability to You for all damages (other than as may be required by applicable law) under this License exceed the amount of fifty dollars ($50.00), even if Global Pragmatica LLC has been advised of the possibility of such damages.
8 Termination
8.1This License is effective until terminated. Your rights under this License will terminate automatically or cease to be effective without notice from Global Pragmatica LLC if You fail to comply with any term(s) of this License and fail to cure such breach within 30 days of such breach. Upon the termination of this License, You shall cease all use of the Script and destroy all copies, full or partial, of the Script. Upon termination, You agree to immediately stop any further use, reproduction, modification, sublicensing and distribution of the Covered Code. All sublicenses to the Covered Code which have been properly granted prior to termination shall survive any termination of this License. Provisions which, by their nature, should remain in effect beyond the termination of this License shall survive, including but not limited to provisions of this License relating to No Warranty or Support, Limitation of Liability, Governing Law, Complete Agreement and Governing Language shall survive any termination. No party will be liable to any other for compensation, indemnity or damages of any sort solely as a result of terminating this License in accordance with its terms, and termination of this License will be without prejudice to any other right or remedy of any party.
9 Versions of the License
9.1 Global Pragamatica, Inc. may publish revised and/or new versions of this License from time to time. Each version will be given a distinguishing date. Once Original Code has been published under a particular version of this License, You may continue to use it under the terms of that version. You may also choose to use such Original Code under the terms of any subsequent version of this License published by Global Pragmatica LLC. No one other than Global Pragmatica LLC has the right to modify the terms applicable to Covered Code created under this License.
10 Trademarks
10.1 Global Pragmatica LLC (R) is a registered trademark of Global Pragmatica LLC, registered in the USA. JMP®, SAS®, and all other SAS Institute Inc. product or service names are registered trademarks or trademarks of SAS Institute Inc. in the USA and other countries. (R) or "®" indicates USA registration. Other brand and product names are registered trademarks or trademarks of their respective companies.
10.2 This License does not grant any rights to use the trademarks or trade names "Global Pragmatica LLC" or any other trademarks, service marks, logos or trade names belonging to Global Pragmatica LLC or to any trademark, service mark, logo or trade name belonging to any Contributor.
11 Ownership
11.1 Subject to the licenses granted under this License, each Contributor retains all rights, title and interest in and to any Modifications made by such Contributor.
11.2 Global Pragmatica LLC retains all rights, title and interest in and to the Original Code and any Modifications made by or on behalf of, or submitted to Global Pragmatica LLC, and such Modifications will not be automatically subject to this License. Global Pragmatica LLC may, at its sole discretion, choose to license such Modifications under this License, or on different terms from those contained in this License, or may choose not to license them at all.
12 Miscellaneous
12.1 Compliance with Laws
12.1.1 You agree to use the Script in compliance with all applicable laws, including local laws of the country or region in which You reside or in which You download or use the Script.
12.2 Export Control
12.2.1 You may not use or otherwise export or reexport the Script except as authorized by United States law and the laws of the jurisdiction(s) in which the Script was obtained. In particular, but without limitation, the Script may not be exported or re-exported (a) into any U.S. embargoed countries or (b) to anyone on the U.S. Treasury Department's list of Specially Designated Nationals or the U.S. Department of Commerce Denied Person's List or Entity List. By using the Script, You represent and warrant that You are not located in any such country or on any such list. You also agree that You will not use the Script for any purposes prohibited by United States law, including, without limitation, the development, design, manufacture or production of missiles, nuclear, chemical or biological weapons.
12.3 Third Party Acknowledgements
12.3.1 Portions of the Script might use or include third party software and other copyrighted material. Acknowledgements, licensing terms and disclaimers for such material are contained in or linked from the Script or may otherwise accompany such material, and Your use of such material is governed by their respective terms.
12.4 Third Party Rights
12.4.1 You expressly acknowledge and agree that although Global Pragmatica LLC and each Contributor grants the licenses to their respective portions of the Covered Code set forth herein, no assurances are provided by Global Pragmatica LLC or any Contributor that the Covered Code does not infringe the patent or other intellectual property rights of any other entity. Global Pragmatica LLC and each Contributor disclaim any liability to You for claims brought by any other entity based on infringement of intellectual property rights or otherwise. As a condition to exercising the rights and licenses granted hereunder, You hereby assume sole responsibility to secure any other intellectual property rights needed, if any. For example, if a third party patent license is required to allow You to distribute the Covered Code, it is Your responsibility to acquire that license before distributing the Covered Code.
12.5 Government End Users.
12.5.1The Script is provided to the U.S. government in a transaction subject to the Federal Acquisition Regulations with Restricted Rights. Use, duplication, or disclosure of the software by the U.S. Government is subject to restrictions as set forth in FAR 52.227-19 Commercial Computer Software-Restricted Rights (June 1987). The Contractor/Licensor is Global Pragmatica LLC, located at 6474 Oakwood Dr., Oakland, CA 94611.
12.6 Relationship of Parties.
12.6.1 This License will not be construed as creating an agency, partnership, joint venture or any other form of legal association between or among You, Global Pragmatica LLC or any Contributor, and You will not represent to the contrary, whether expressly, by implication, appearance or otherwise.
12.7 Independent Development.
12.7.1 Nothing in this License will impair the right of Global Pragmatica Inc. to acquire, license, develop, have others develop for it, market and/or distribute technology or products that perform the same or similar functions as, or otherwise compete with, Modifications, Larger Works, technology or products that You may develop, produce, market or distribute.
12.8 Waiver; Construction.
12.8.1 Failure by Global Pragmatica LLC or any Contributor to enforce any provision of this License will not be deemed a waiver of future enforcement of that or any other provision. Any law or regulation which provides that the language of a contract shall be construed against the drafter will not apply to this License.
12.9 Dispute Resolution.
12.9.1 Any litigation or other dispute resolution between You and Global Pragmatica LLC relating to this License shall take place in the Northern District of California, and You and Global Pragmatica LLC hereby consent to the personal jurisdiction of, and venue in, the state and federal courts within that District with respect to this License. The application of the United Nations Convention on Contracts for the International Sale of Goods is expressly excluded.
12.10 Controlling Law and Severability.
12.10.1 This License will be governed by and construed in accordance with the laws of the State of California, excluding its conflict of law principles. This License shall not be governed by the United Nations Convention on Contracts for the International Sale of Goods, the application of which is expressly excluded. If for any reason a court of competent jurisdiction finds any provision, or portion thereof, to be unenforceable, the remainder of this License shall continue in full force and effect.
12.11 Complete Agreement; Governing Language.
12.11.1 This License constitutes the entire agreement between You and Global Pragmatica, LLC relating to the use of the Script licensed hereunder and supersedes all prior or contemporaneous understandings regarding such subject matter. No amendment to or modification of this License will be binding unless in writing and signed by Global Pragmatica LLC Any translation of this Agreement is done for local requirements and in the event of a dispute between the English and any non-English version, the English version of this Agreement shall govern, to the extent not prohibited by local law in Your jurisdiction.Where You are located in the province of Quebec, Canada, the following clause applies: The parties hereby confirm that they have requested that this License and all related documents be drafted in English. Les parties ont exige que le present contrat et tous les documents connexes soient rediges en anglais.
13 EXHIBIT A: Required Notice for Modified Code
13.1 Portions Copyright © 2010-23 Global Pragmatica LLC All Rights Reserved.
This file contains Original Code and/or Modifications of Original Code as defined in and that are subject to the Global Pragmatica LLC End User License Agreement. You may not use this file except in compliance with the License, which is included in and/or linked from the Script. The Original Code and any Modifications distributed under the License are distributed on an 'AS IS' basis, WITHOUT WARRANTY OF ANY KIND, EITHER EXPRESS OR IMPLIED, AND GLOBAL PRAGMATICA LLC HEREBY DISCLAIMS ALL SUCH WARRANTIES, INCLUDING WITHOUT LIMITATION, ANY WARRANTIES OF MERCHANTABILITY, FITNESS FOR A PARTICULAR PURPOSE, QUIET ENJOYMENT OR NON-INFRINGEMENT. Please see the License for the specific language governing rights and limitations under the License."