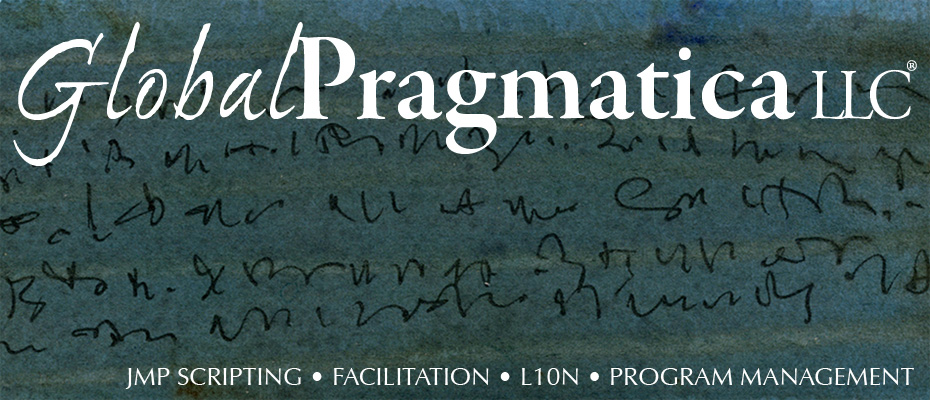 Global Pragmatica LLC® is a consultancy offering custom JMP scripting (JSL) and statistical tool development and general facilitative leadership and program management services, with domain expertise in globalization, internationalization, localization, and software development project and program management.
Custom JMP scripting
Global Pragmatica LLC® is a JMP Customization Partner, offering custom tool development in the JMP Scripting Language (JSL) for JMP Statistical Discovery Software from SAS.

Global Pragmatica's custom statistical tool development enables organizations to shorten product development cycles and lower cost of product design and improvement by developing intuitive, robust tools to perform specialized analyses. Custom-scripted tools can harness JMP's point-and-click interface and exploratory graphics for visual analysis along with SAS's power for massive-scale number-crunching in an integrated, point-and-click graphical user interface that is customized to the customer's requirements and their users' analytical expectations and skill levels.
custom JMP scripting (JSL)
ready-to-run JMP scripts
custom statistical and exploratory graphics tool development
JSL (JMP scripting language) support
JMP-SAS integration support
Facilitative leadership
Global Pragmatica's facilitative leadership services provide pragmatic guidance to help an organization develop and achieve its global vision through sustainable strategies, effective tactics, and committed teams. Our facilitation goes beyond what general facilitators can offer because of our domain expertise in:
program management
software development
localization (l10n)
organizational development
Sponsorship and pro bono work
Global Pragmatica LLC® offers professional services at no charge or reduced rates, at its discretion, to non-profit, music, educational, and similar organizations. We believe in servant leadership and make it a priority to join and support those who are actively imagining and creating a better world.

Global Pragmatica LLC® is a proud sponsor of Helena High School athletics in Helena, Montana—specifically the girls basketball, volleyball, and track teams. Go Bengals! 

Global Pragmatica LLC® is proud to sponsor the phenomenal new organization Montana Youth Action, a youth-run organization with the purpose of advocating for, lobbying for, and politically organizing the young people of our state.
Global Pragmatica LLC® is proud to be in-kind corporate sponsor of Beit Malkhut's "Kaddish in two-part harmony" project, a yearlong conversation between an anthropologist and a musician along with a growing virtual minyan on themes of death and dying, grief, ritual, and the interplay between music and words.
Logo and background art
Painting by Zsuzsi Saper, March 2009.